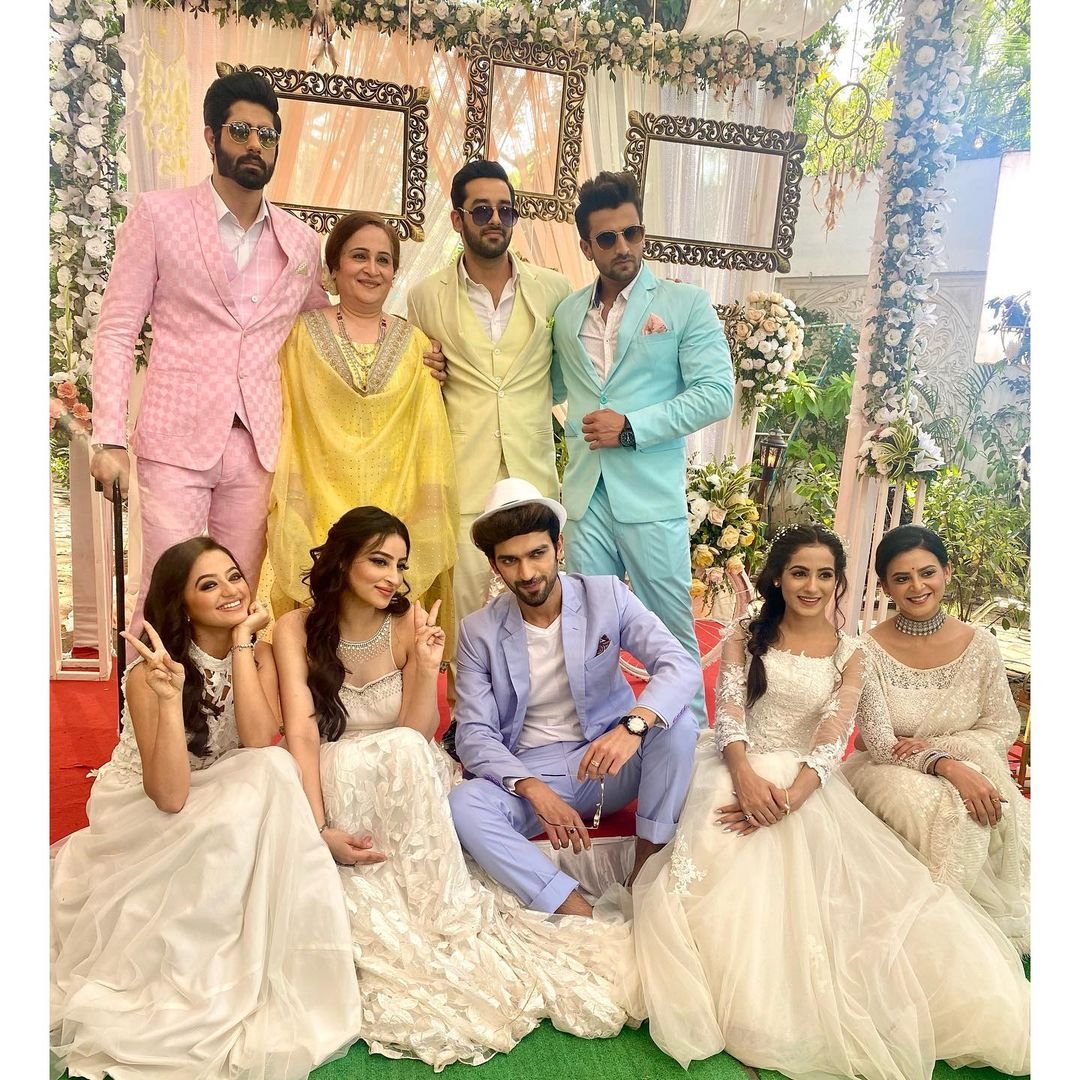 The episode begins focusing on (of all things) on a tub of popcorn! Chanchal is fully immersed in her Rudaali act. The chill pill Aryan manages to put a break on her ululations.
Having discovered that his elfin wife has not eaten anything since morning & worried that she might just disappear as a mist, the concerned hubby Vansh brings her sustenance to keep her in full form. To his surprise he finds that in his absence, the ladies had mandated a new rule – food bringers should feed the food starved themselves. Never one to shirk his duty, Vansh manfully feeds his coy wife who seems intent on eating him up than the food!
With stomach silenced by the bribe of food, Dadi moves to the next item on her agenda. She gives them all a plate full of Henna, to be applied on their hands. Dadi is fully confident that Riddhima will get the darkest, deepest shade of red synonymous of Vansh's love! Alas!! Ishani's prank precludes any such possibility.
To cheer up a disheartened Riddhima, a husband goals Vansh promptly stamps her hand with red color. Riddhima completes the lal Ishq by writing his hand on her hand.
Night cometh & we see Riddhima fully absorbed in her Karva Chouth preparations. Spying a deeply asleep Vansh, a wave of tenderness overcomes her. Swept in the waves of love, Riddhima breaks the taboo & mimics Vansh in his VR mode. Vansh who never sleeps & has part vampire DNA wakes up instantly, intimidating her with his trademark growl & sweeps Riddhima off her feet with his smile..
Riddhima's attempt to reveal her past is expertly blocked by Vansh who has no interest in her past. Both prepare for the night, one dreaming about new beginning & another hiding a secret.
On the other side of the world, Ishani -Angre continue their feeble attempt of playing AYM  & The Taming of the Shrew. Kabir & Momma dear continue their plotting via their phones ( Their phone network should make them their brand ambassadors).
** A breezy, hope filled episode on surface but scratch the surface a bit and it gives food for thought.
If we are doing an Agatha Christie, then " The Curious Behavior of Vansh" would be an apt title. Be it from the moment of "Bangle ceremony" or to the point where Dadi tells him to feed Riddhima (because of love), the way he has conducted himself gives raise to suspicion. For here is a man who has got "All clear" from his hitherto distant & spit fire wife. His virago has loudly said " I love you" in their own silent code language yet every time L word comes, he steps back. There's a distance, his eyes gets hooded. He looks at Riddhima like a Scientist looking at a puzzling piece of a new species. Riddhima's declaration of love or her suggestive hints does not imbue him with happiness or smug satisfaction. On the contrary, her blushes, her shyness & her trusting eyes troubles him, he becomes a man playing a part of dutiful husband. 
Why a man who is willing to do the 'farz' of a husband does not want the 'pyar' of his wife which would be his rightful haq in a relationship? 
Does the sabotaged Henna preventing the dyeing of  Riddhima's hand with the colors of love of her husband indicative of Vansh true state of his heart?
HOWEVER …
Heer – Ranjha , two ill fated lovers who loved to the point of obsession & death, the fickle love cruelly washed off her hands off this two, condemning them to grief, misery before death finally took pity on them & offered them his sanctuary. Aryan compares Riddhima & Vansh to these two!! 
BUT …
Pandit : I am astonished that this two are united in a union of marriage!! Because their stars do not foretell their union anywhere in the cosmos !!
Yet this two are bound in holy matrimony !
Riddhima & Vansh who were not meant to be, their paths were never intended to cross. They were destined to live & die never ever coming into each other's orbit. Call it kismet or higher power, circumstances threw them together, situation brought them closer, hidden purpose bound them together. While Vansh thought he was marrying the puppet of a spy, where Riddhima thought she was marrying a criminal.. the true hidden intent might have been love!
Riddhima & Vansh who were not meant to be.. Death came visiting but Vansh snatched his Riddhima from its slavering jaws through sheer will. She walked, spilling her own blood but bringing him back from the dark abyss through sheer determination. He burned his hand stopping a flaming arrow that would have burned his Riddhima to ashes.
Today, she could not get the colors of love on her hand. But the husband who cherishes her found a solution & gave her happiness by rigging up a unexpected solution & she formalized it by inking his name on her soul. Her heart imprinted with the black ink of Kabir stands cleansed by the color of life, color of passion, color of love, color of Vansh.
True !! They were not meant to be but equally true, they will be. Destiny will do everything in her powers to bring them down but their love, their absolute commitment will thwart every move of destiny. Not just destiny, even love will have to concede defeat in front of these two extraordinarily stubborn individuals who defied their destiny, chose to break the chains of fate & are obsessively becoming each other's heart!