TV Shows
Ishq Mein Marjawan 2 Episode 63 : The Turning Point !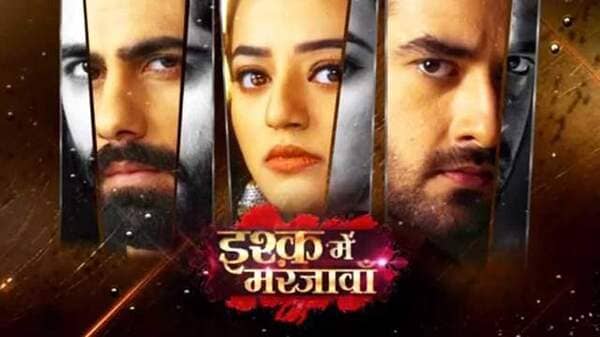 If Mamta Yashpatnaik intended to pay homage to Ekta Kapoor & her shows, she succeeded brilliantly in her endeavor today!
Today's episode was a perfect mix of desi serials which asks one to suspend your sense of disbelief and strong layers of Vansh & RiAnsh!
Vansh & Bappa ji are perfecting their buddy system and would not be surprised if they turn BFF's someday in future.
Vansh who had every intention of giving a thorough verbal spanking to Ishani for her childishness recalls what his sweet wife said. He reins in his temper, dials down on "I am your elder bro" attitude instead he speaks to her rather than down to her. Vansh offers evidence of Sunny's philandering nature, his dalliances with various girls & 'Poof' Ishani's love for Sunny vaporizes in an instant! But her fury about being forced to marry Angre does not dissipate.
** If proof was required that Riddhima is making inroads into Vansh's life, his thoughts & his heart then this scene amplifies it. A man who was ready to skewer his lil sister to bits holds himself in, recollects his wife's sage advice and follows it.
But that's not the end of it, Vansh Raisinghania, a man who is used to wielding his power as a weapon realizes that love can be a weapon too. **
Fast on the heels of realization comes the awareness that he left his wife struggling with her eyes. Vansh rushes to help her out but Riddhima is nowhere to be found. He goes to their room & Nah-ah, No Riddhima ! Wondering whether she is miffed, the now slightly worries hubby continues his search of his missing wife. On the other side, Kabir is searching for his pawn, Riddhima with equal fervor.
** The stark contrast between two most important men in Riddhima's life could not be brought out in more glaring detail. One one hand we have a supposedly 'cold blooded evil monster' Vansh who forcibly married Riddhima and on the other side we supposedly have a "righteous, caring, sweet wholly in love with Riddhima" Kabir.  Where vansh searches for Riddhima in earnest, her prolonged absence stirring worry & personally getting anxious about her well being, all Kabir is concerned about is  HIS plan ! Not a damn care about Riddhima ! **
Meanwhile Riddhima has speed traveled to swimming pool area stuffed in a suitcase. She briefly wakes up and the first word that pops out is 'Vansh'. She struggles to breathe and to get out of the suitcase but has been zipped tight! After a futile battle, she loses consciousness and drifts off. A distraught Vansh makes his way to swimming pool after searching the whole house. He blurts out the disappearance of Riddhima to his Dadi, who sagely assures him, calms him down. A determined Vansh decides to re-search the house again. His path leads him to Bappa who gives a clear indication about Riddhima's whereabouts.
**There is a uncertainty about true pair in this show, today I believe the makers underlined again the real pair of the show. Kabir who is intently searching for Riddhima is the first person to come across the suitcase with Riddhima's sari popping out. Despite being a observant, vigilant man he misses out on that ruffle -Strike one against him!
Dadi comforts Vansh, her words are quite interesting to say the least. She says, "Bappa brought them together. No harm shall come to Riddhima. Bappa will NEVER allow them to separate". Words of wisdom and a hint about things to come.  – Strike one for Vansh!
Kabir had made a full preparation to kidnap Riddhima. He was willing to go to any extent to get Vansh. what however happened is, Riddhima bumps her head against a wall, slides down and falls within a suitcase right under the nose of Bappa, thus offering another suggestion that Riddhima who thinks Bappa as her world and her family is under HIS care. The lord has not sanctioned Kabir in Riddhima's life. Strike two against Kabir!
Comforted by his Dadi's words, Vansh decides to do another exploration of the house when Bappa through his vehicle gives him a direct hint. A hint to Vansh, mind you and not to Kabir or anybody else. Vansh is quick to understand and rushes to save the woman who has made her place in his life. – Strike two for Vansh**
Once Vansh realizes that Riddhima is stuffed inside the suitcase and might even be drowning as he is processing the SMS sent by Bappa, he wastes no time. He rushes out, jumps into the pool, unzips the suitcase., brings her up for air, does a CPR and resuscitates her .
** A virtual watershed moment for Vansh who firmly believed in keeping his heart guarded and locked at all times. But Bappa has taken an interest in this orphan, he shows His love by sending a daughter whom He cherishes.
Water they say cleanses everything. It is where you go to take a dip and wash away the dirt, the baggage's that you carry in your soul. Today with this dip, Vansh has begun to shed the baggage, has begun the process of beginning a new life. A life where there is place for love, for support, for trust. A place that belongs to Riddhima. A place that is their own **