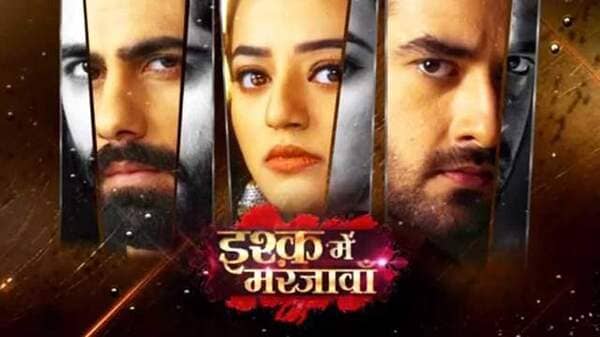 Love !! poets & love sick swains have waxed eloquence in its glory, sometimes reviling it in anger, sometimes accusing it in despair and most of the times extolling its virtues!
Love bides its time, its trap set centuries before, it waits patiently for the victim to fall, some he snares easily & some are not easily conquered. Vansh seems to belong to the latter category.
But lets begin from beginning. Vansh is taking Aryan to the cleaners for his overly smartish dumb move. His palpable anger is soothed by his Chachu who reminds him of his obligations and duties. Vansh, the family man as usual swears to protect his family! An affirmation that's looked on in disapproval by his Dadi and caught by Vansh.
** Vansh who does not hesitate to take the gravest risk or biggest gamble to guard his family is strangely reluctant to include Riddhima in his inner sanctum. From the point of view of Vansh, it does make sense, she is an outsider with a completely different value set, opening up to her might be like committing harakiri & Vansh is determined to keep everyone safe which can be done by keeping Riddhima far away from him. 
Duh!! The road to good intentions are littered by several such well meaning, thoughtful resolve. When Love decides to enter, it does not knock instead it breaks the door ! With resident cupids working so hard, Vansh is not going to have a choice in the matter! **
Where Ishani is fulminating and throwing tantrums in her room, the rituals for her wedding goes unimpeded. One such ritual is of making turmeric paste for the bride. A ritual that is said to be done by the bride's sister in law. Riddhima is tasked with the making of the paste.
Riddhima happily accepts the assignment, her sangfroid evaporates the moment she spies the tall, imposing figure of her husband entering the domains of the women. Riansh shippers Sia & Kabir quickly do the vanishing act leaving the newly weds alone.
Vansh walks up to Riddhima, without a word he extends his hand to help grind the paste. The proximity of his presence disturbs the equanimity of Riddhima. She cannot resist stealing glances at him, drinking him in. she is like the flower that has got warming rays of sun hitting her cold petals bringing her to life after days of miserable winter. Vansh catches Riddhima looking at her, he stands transfixed, his own eyes locked on to her gorgeous face. Both remain locked into each other while locking out everything else. A moment, a century passes perhaps when the ever practical VR side asserts itself. Vansh swings to aid his wife in turmeric paste making.
Vansh's nimble, strong hands clasp the dainty, soft hands of Riddhima, even then Vansh cannot stop himself from giving a close, onceover to his wife. Riddhima is no shrinking violet, she also laps up the nearness of Vansh, desires his closeness. Again, the partners for eternity commence the job of grinding the spice to a fine paste. The angle is wrong!! Vansh who has nothing but an ardent wish to help his wife finds out that he can do a better job if he comes behind his wife and takes over from there. That thought quickly translates into action, faster than lightning!!
Vansh walks behind his startled wife, gently tugs the flying hair back, leans slowly,, ahhh ever so slowly on Riddhima, his face brushing her head ever so slightly leaving Riddhima slightly gasping for breath. Unmindful of the earthquake happening within Riddhima, Vansh plods on the mundane task of 'paste making'.
While Riddhima is trying to adapt herself to the quivering tremors, Vansh's silky stole decides to be the villain and slides down. Vansh lifts his hand to correct his stole, his turmeric stained fingers brushing by Riddhima's eyes, smearing her in his color!.
Riddhima jumps back, vainly trying to wipe the turmeric stain, however her hands are smeared by the paste too. Vansh who has adjusted his stole to his satisfaction notices the stain and the distraught face of his petite wife. He extends his fingers to wipe the turmeric paste away & Riddhima prepares herself for another round of after shocks after his electrifying touch when Ishani plays the villain of the piece this time.
An exasperated Vansh decides to 'settle' the matter, the soft voice of Riddhima stops him. Riddhima advices him to be patient, explains that the marriage is being forced on her and her acting out is natural. Once things calm down and given enough time, Ishani will accept and adapt to the change. She tells Vansh to be patient and to explain with love..LOVE will change everyone and everything.
Vansh who began to listen to her as her husband Vansh soon zones himself into Vansh Raisinghania. He turns remote, almost distant from her. After Riddhima shares her counsel, his scathing rejoinder – 'You too behaved similarly during our wedding, how much have you changed? , Riddhima is about to admit the truth & is rudely interrupted by Vansh who retorts he knows how to handle his own sis.
Riddhima accidentally rubs off the turmeric paste into her eyes, causing her eyes to tear up. She seeks assistance from Vansh. It is Vansh Raisinghania who responds, all she gets is a handkerchief casually thrown on Kitchen counter which throws little Mrs. Raisinghania into one giant miff. Growling in anger, she throws down the kerchief and stumbles into the corridor where she bumps her head and falls into the suitcase unconscious.
** They married without love; one to protect his family & another for her 'love', both underestimated the fragile threads of relationship that wove them together in a bond called marriage. 
I loved the fact that Vansh did not expect Riddhima to call him for help nor did he wait upon her to beg for his aid. He simply & without a word walked upto her and lend his hand to ease her task. Unknowingly & inspite of his own misgivings, he is drawn to her. The dam that he has built to contain his emotions is breached, his love is slowly trickling, once the dam breaks, it is going to be a deluge!
My!! My!! The changes in Riddhima is startling to say the least. From spit firing, claws unsheathed cat to a purring cat who loves the nearness of the man, her journey has been rapid to say the least. Gone are the days when she would apologize for offering suggestions now the 'sorry' is more angry cuz her suggestion was summarily rejected by her husband! 
GONE are the days when every offer of help from Vansh was rebuffed by a hostile Riddhima. Today, she not only asks him to help but gets angry when Vansh just offers her his handkerchief & leaves her !! WOMEN!!
All said and done, I am rather glad that Riddhima did not elaborate on how she has changed. I especially do not want the two creepy crawlies overhearing it, realizing that Riddhima might not be an asset and concluding that she needs to be removed! Whatever confession that Riddhima was going to make, I hope we get to see it with proper emotional depth and in correct setting with only the two in the picture!
The ever plotting Kabir decides to get proactive & kidnap Riddhima , to force Vansh into 'feeling' love for Riddhima. Nonetheless, when Love is pure, honest , when evil forces try to inject venom & turn it toxic, the lord himself intervenes, becoming the protector of the pure love. Here Riddhima's Bappa has become the protector of Vansh & his love !! If Haldi ceremony signals the beginning of relationships then today RIAnsh did their own haldi with Bappa doing Shri Ganesh to their relationship! **