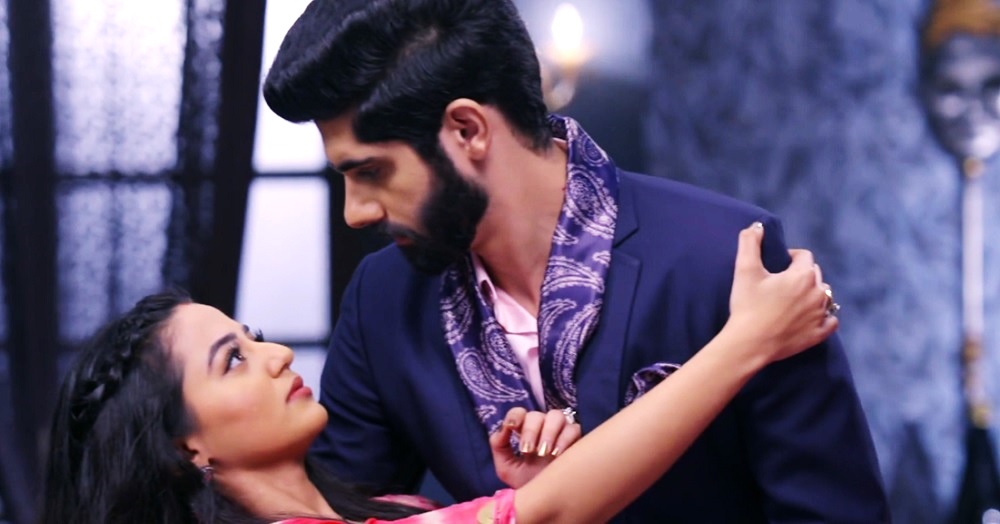 Kabir & Anupriya take another step closer to realizing their objective as they complete one more ritual tying Riddhima's fate to their's.
Dadi, Ishani & Angre are not happy but Anupriya &Kabir are least bothered * where did the new found chamcha's of Kabir go?*
Hot headed Ishani does not believe in control , patience & wants swift justice by poisoning Riddhima to death..Angre plays the able husband & calms her down.
Meanwhile Kabir who has been floating in his own cuckooland gets a rude awakening from Riddhima who is done playing 70's -80's ki helpless heroine. She undergoes a makeover & become the 2020 ki tez mirchi.
Instead of asking for diamonds or golds which was above the paygrade of Kabir, she demands that Kabir present her with all the fake evidence accumulated against Vansh. As a 'sone pe suhaga', she demands that Kabir ought to make a bonfire of the evidences . A frustrated & helpless Kabir dances to her tunes.
Riddhima vows to get back at Kabir using Vihan. Meanwhile Vihaan daydreams about bulking his abs using Riddhima's money.
** What a scorcher of an episode !
Welcome to Hell said Anupriya & what an awesome piece of info to drop in for us as viewers. Because so far Anupriya has not been living in hell, she has been enjoying the luxuries & comfort of Vansh's riches. Now the madame herself confesses she is heading out to hell soon and even better news is that Riddhima refuses to join her in her trip by refusing to partake the poisoned sweet offered to her by her fake MIL.
A hopeless queen is a useless queen! Vansh spent his moments trying to subtly teach Riddhima the pitfalls, traps & snares that she will encounter as Mrs.Vansh Raisinghania. He knew that someday, somewhere an intelligent but a gullible Riddhima can cause havoc through her innocence & naivety therefore he cautioned her, taught her without seeming to do so, nudged her on a path of learning & on the direction he set ..but all these lessons come undone when the spirit in the warrior deserts you in the hour of need, when you lose the hope that gives you the courage to fight back, you lose the will to wage war.
Vihaan had two objectives, make Riddhima desperate enough that she loses the fear tying her down, offer a carrot, a hope that gives her the will to wage war. He does so by asking for money & by promising that he might/will help her in her plan. Her mind focused on getting the money, her mind shifts focus from the fear of losing her family to how to get the money and with the promise of Vihan, she gets the courage and hope of saving her family from the clutches of the murderers. 
Imbued by the support offered by Vihaan, Riddhima bides her time to turn the tables on Kabir & the opportunity arrives soon. She offers the merest glimpse of hell to Kabir & he collapses like a balloon. But Riddhima's 'game' is not just for fun or to torment Kabir. It's a queen's gambit in action. She makes her move to reclaim what Raisinghania's lost and are verge of losing by giving Kabir a sneak peek of things to come.
A badly rattled Kabir does her bidding confident that Vansh is not coming back. He hands over everything that would have toppled Vansh in a jiffy. His one overconfident move ending the stranglehold he had on Vansh Raisinghania, liberating Vansh Raisinghania to create the hell that Anupriya is waiting for. 
It is at this moment the tides of war turned even though none of the involved parties are aware of it yet. Kabir who claims to know Riddhima inside out has just received a jolt, his pawn has remained true to its nature by being unpredictable right till the end, where he was expecting a easy walkover, he has had the rug pulled right from under his feet. It is this "unpredictability" factor that's going to play a role later on. A factor that's going to be a boon or bane for Vansh. 
Riddhima has cleared the decks for Vihaan to come. The game which had been heavily tilted in favor of Kabir has been equalized by Kabir himself. The ashes of the past are buried but life takes root again as Riddhima places the color of life over the lifeless ashes. The beautiful life forever treasured as memories while new beginning awaits …. However the heart has stopped ticking. Riddhima has taken the task of repairing the watch, will she be able to heal the wounds in Vansh's heart, can she repair the heart again?
If Riddhima is waging a lonely battle, Angre is not far behind. He is not taken in by the Kabir milap. He has realized that this is a deep rooted conspiracy and not something that popped out from etherworld. Unlike Ishani, Unlike Riddhima, he is watching and waiting for the right time.