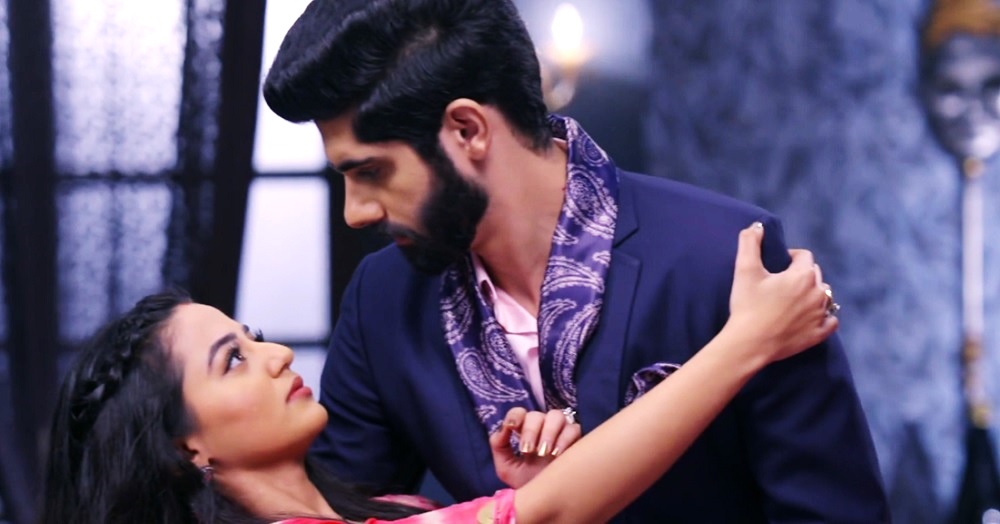 Riddhima's hopes gets torn into pieces as Dadi agrees for the wedding. Her next desperate gamble is Vihaan. Will he come through or deflate like a balloon?
Vihaan has agreed to substitute for Vansh but has his own Terms & Conditions. Has Riddhima fallen from frying pan into fire?
Ishani is growing as a person , from a self centered brat she is slowly evolving into a caring grand daughter.. grief does that.
Anupriya continues her role model mom act. Kabir is slowly getting cocky as he merrily thwarts all moves and counter moves of Riddhima & Ishani in his blind pursuit of acquiring everything & anything of Vansh.
** In my earlier posts, I had said that Kabir has sent a pawn to destroy Vansh but Vansh will send the the pawn as his queen to check mate Kabir in his own game. We are seeing Riddhima in action at this very moment. 
All she needs is time and she has bought time by agreeing to the wedding, by acquiescing quite meekly to Kabir's demands. Her submissiveness coupled with occasional flareup has turned Kabir complacent, for this is the Riddhima that he knows, he thinks he has the handle on Riddhima but little does he know Vansh's Riddhima.. the one who never gives up right until the end, the one who tries again and again until she breaks the wall that has kept her captive. Riddhima is like a cornered rat, a woman desperately fighting for the legacy of Vansh, had Kabir sought to take her life, she would have readily given it up but Kabir cast his eyes on one thing that Riddhima treasures zealously,Vansh,his memories & his legacy. The day Kabir cast his lascivious eyes on Vansh, the queen was born!
Cool, poised, serene and sporting a tranquil mask, she plots to subvert Kabir. Her mind racing to find million ways to check mate him. Check mate she will, the chakravyuh Kabir has drawn has to be broken for the war to begin. However the war cannot begin with an impotent Vansh or the king. He must be freed and be free to make his moves. This cannot be achieved by Vansh or Vihaan. The objective of freeing the King will be that of Queen! Her gambit will free the king from the chains that has kept him tied down. Her move will allow the reclaiming of the power that has shifted to Kabir & Anupriya. Riddhima has got 72 hours to achieve this.. Break the chakravyuh & free the king to do the war!
But here is the bummer –
The freed king has lost his trust on his queen! 
The conversation between Riddhima & Vihaan was quite interesting to say the least. In one of the episode, Vansh says quite clearly that no enemies of Raisinghania can enter the gates of VR Mansion without the active connivance of insiders. 
Though Anupriya & Kabir planned & plotted to get Kabir, it was ultimately Riddhima who was responsible for the entry of Kabir, the virus! As Vihaan said so pertinently, this virus does not seem to have any anti-virus to combat it.
Absolutely true!! Riddhima has no idea yet what her one thoughtless action has done though Vihaan seems to have a better grasp of it. Kabir the enemy of Raisinghania's has been allowed inside due to Riddhima. He has not wasted his time. From usurping the business, he has also quite successfully driven a wedge between the Raisinghania's. He has subverted Aryan to his camp. The formerly united Raisinghania camp now stands divided and thus highly vulnerable to Kabir's machination. Kabir will exploit every loophole offered and there's one in Aryan and Chachi. 
Vansh, the protector and the shield of the family is aware of this danger and he has hinted the same to Riddhima who as usual is on her one point agenda and remains oblivious of the hint thrown by Vihaan. This is not going to be a game where Vansh will swagger in and in one swipe wipe out his enemies. The enemy is entrenched within his camp, his claws has dug into the most vital organs that keep Raisinghania's safe. Any reckless move will ultimately threaten Raisinghania's , Vansh has to play the patience game, weaken Kabir gradually and then remove the threat which will take a long time.
Meanwhile the relationship between Riddhima & Vihaan remains shaky.. While Riddhima is protecting her family and refusing to divulge any secrets to Vihaan only going so far as to tell him that she will share only those information that is necessary, her words and her actions will make her highly susceptible to his suspicious mind. As vihaan goes to war, he will also subject Riddhima to subtle tests to gauge her integrity, her loyalty.. & once again the battle between the heart & mind will commence.. bringing with it, its own pain, angst and chaos!
The queen's gambit will bring with it a trail of devastation, shocks & twists. The foundations of Raisinghania is going to be tested, the weak will fall & the strong will suffer. But if they stick together, they will weather this hurricane with bruises, new found strengths & hope!
The Virus attack will initiate soon!