TV Shows
Ghum Hai Kisikey Pyaar Meiin E426 : Dil Vs Dimaag !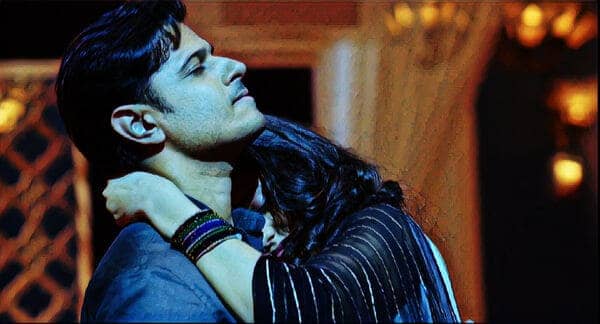 This post is largely driven by Sai's dilemma while at the same time I might wander off into the wilderness of Chavan Niwas or into the rather chaotic life of Virat.
With that in mind, Let me begin to download my imprints & impressions of the episode/scenes that I have seen so far ..
Episode 426 : To me episode 426 was all about insight into Sai's heart & into her mind. The episode focused on Sai's emotions & her conclusions. It was a contrasting display of what her heart yearns & what her mind has concluded. Rather (un)surprisingly her heart & mind was consumed by one person & one person only – Virat !
It began rather interestingly, Sai walking into darkness – a darkness that would have surely enveloped her post her father's death and who illuminates the darkness – it is Virat ! . Whenever shadows strike, whenever darkness emerges to swallow her whole either due to her own demons or due to the actions of Virat , indirectly or directly it will always be Virat who will be the beacon for her. He will be the light that will brighten her path tangibly or intangibly.
He is the one who can make her smile and Sai also knows that he will be the one who will always be waiting for her. her impulsiveness, her impetuousness, her penchant for snap judgement will or may wreck havoc going forward but at the end of the day Virat will wait for her, bearing the brunt of storm she unleashes, braving the forces & stoically withstanding the storm, Virat will wait – A fact that Sai's dil has understood clearly but at the same time, Sai knows that Virat will not compel her or come begging after every fracas. He will do his utmost to hold on to & build the relationship yet he will never hold her back were she to opt for freedom neither will he lower himself to beg for a relationship that she would not be interested in.
Her heart has measured and realized the truth of Virat. Her heart knows that Sai can find happiness only with Virat. In his presence she finds her world, in his smile – her happiness. Such is her love & bond with Virat that she has not forsaken the ring that was given to her by Virat. The ring that established their relationship, the removal of that ring ushering in the end of their relationship in all forms. Yet, despite having given off the ring, she has still held on to the relationship subconsciously. Inspite of denying to be Mrs.Chavan any longer, she still considers herself to be Mrs.Chavan in her heart.
Ah! The glorious tussle between the heart & the mind.. Mind which has given over the ring, coldly ending the 'relationship' whereas the heart has not only held on to the ring but is also wearing it proudly announcing their relationship to the world.
Anger, a sense of betrayal has taken over Sai's mind. A woman who actually had given permission for her husband to flirt or date with any third/fourth female is now overcome with anger at Virat's seeming betrayal. Her mind has accepted Virat's 'cheating' as fact but is unable to move forward despite numerous attempts and grandstanding's because Sai's heart has remained with Virat. Until both heart & mind began to work in sync, Sai has set herself for a life of misery.
The man who is at the center of the storm, so to speak, the man who ushered in the storm – Virat. It has been quite an interesting experience to watch Virat . That he will abide by his own sense of duty than with what is laid out in book of law was obvious right from Gadchiroli days. But the extent to which he can and does remain unbending was not shown. We are getting a peek into his implacable will, his unyielding stance even at the face of disaster striking him from every front. He remains determined, uncompromising, undaunted in the face of humiliations, taunts & the fall from grace. A feat that is possible only when you have an iron core made of unshakeable conviction (though it may be wrong when viewed dispassionately).
Virat is a man committed to his promise & he will fulfill it even if he were to lose everything in the bargain. But at the same time he has no illusions about Shruti. To him, Shruti is a task that needs to be completed for his friend's happiness. There's humane compassion but not any incipient affection!
Another interesting factor I observed was the nuanced interaction between Virat & Shruti. In a way, some of Shruti's unintentional actions mirror Pakhi's insidious attempts to get close to Virat. Where Virat would quietly withdraw or deflect Pakhi's intent or even attempt to mollify & calm Pakhi , he has no such qualms in taking a strong and often harsh stance against Shruti. Virat does not even take a second to shut down any type of soft gestures from Shruti.
Just loved the way, Vankar has brought out the perils of living in a joint family where most often you have to exercise immense restraint or tact to parry off a family member who is trying to cross the line of respectability. Any escalation can lead to the breaking of family or bitterness among family members as they split into groups, so each step must be taken in such a way as to defuse it before it can cause chaos in a joint family. However, an unattached woman who has no locus standi will not merit such consideration especially were she to raise a stink, the world at large will gravitate towards her – so she needs to be shut down without mercy & instantly. Virat while handling Pakhi with soft gloves has no such inhibitions when dealing with Shruti. I loved how Vankar brought out the nuances of relationships by using the contrasting behavior of Virat with respect to Pakhi & Shruti.
Shruti, the woman who is the trigger or the bomb whose explosions has shattered a household & many a relationships. A woman who lived quite efficiently in the forest, who lived on her own terms now finds herself plucked away from her elements and plunged into a contemporary society with its own strictures and morals. Added to that are her trauma's – of losing her husband, of having a premature baby & of having almost died. She is alone, with none concerned about her, none to support her. She is thrown into another jungle, one which is far more ruthless & cruel. The only person who is acting as her shield in Virat.
The man who killed her husband, Shruti does not consider Virat as guilty though there is latent anger but at the same time when you are all alone in a strange place with no recourse to help, when you have come off from an intense emotional & physical distress or trauma, you begin to develop a soft corner, a level of dependency (especially emotionally) for that person who has offered you a helping hand. Shruti has entered that phase, she is beginning to see Sada in Virat . It is not an emotion that is driven by fear, it is an emotion driven by fear, by a sense of loss.
The storm is going to get worse before it gets better but better it will get soon.